Some of our most popular materials:
ALUMINUM: We carry over +1400 different recycled Cast aluminum items, such as fountains, patio furniture, lamp posts, mailboxes, life-size animals, and statues of all kinds. Our recycled cast aluminum yard art has been melted down and poured into molds that retain some imperfections, allowing the statues to have character and appear aged, which is the preferred look. We then hand paint these pieces here on site in our distinct antique style. We even do custom orders!
TEAK WOOD: All of our teak wood creations come directly from the Indonesian jungle. It is all hand carved out of stumps, branches and even roots. Our furniture is a fine fit for rustic cabins to beach houses and we also offer many decorative items from wall art to table centerpieces. We also carry bar tables and stools, dining tables and chairs, massive sofa sets, carved coffee tables, imponent consoles, plant stands, and plenty of rustic wall decor.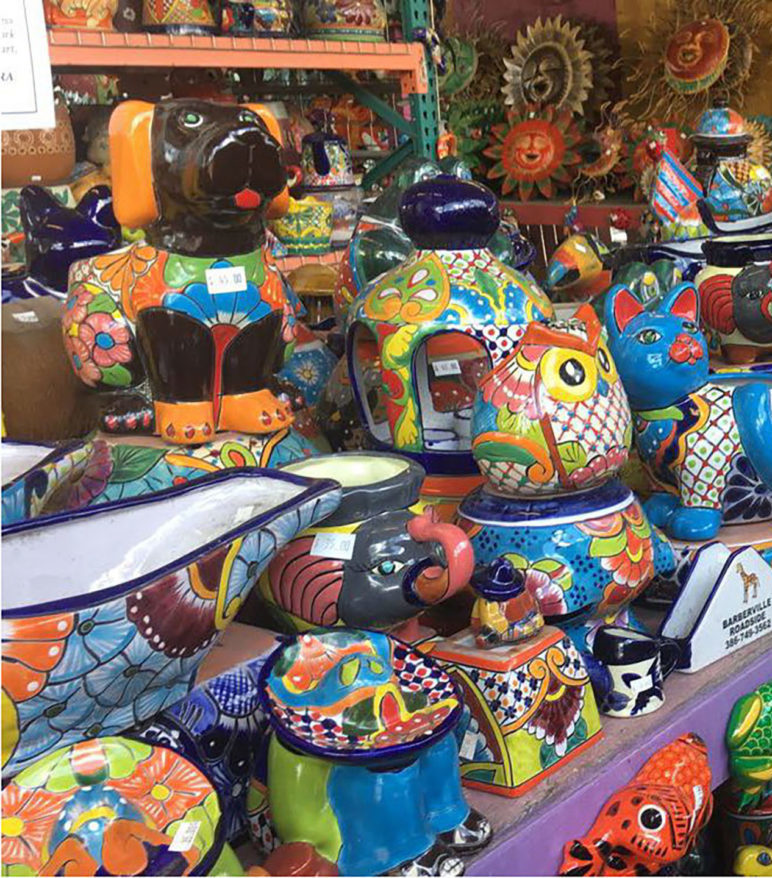 TALAVERA AND CLAY: We proudly stock the largest selection of handmade Talavera Ceramic from Mexico. We buy direct from artisans at the source, with no middle man. Every piece is created and painted by hand, in the extremely detailed style that has been passed down through generations in Mexican culture. Talavera ceramic is baked twice at 1200 degrees. The first time to create the shape, and the second time to melt the drawings paint, mixed with glass particles to seal in the colors. That ensures that the item won't ever fade under the elements.
We also specialize in providing large hand crafted decorative clay pots. These
planters are hand painted with distressed earthy colors that suit gardens, terrazas, pool decks, etc.
WROUGHT IRON AND STEEL CRAFT WORK:
We enjoy stocking thousands of fun and colorful yard art, made out of all types of
metals and shapes! Most of the time these materials are recycled from what they once were, to the beautiful creations you will find in store, such as a giant fish to hang on the wall, unkillable flowers for your garden or a Florida souvenir staple, a pink flamingo.
Shipping and Delivery
● 

We do NOT ship through companies like USPS, FEDEX, or UPS. As we carry one of a kind handmade pieces that don't come in a box, it is usually not cost effective to safely package and ship small items.
● We ship big items on pallets via commercial freight, all over the USA.
● We deliver up north along the east coast large size pieces directly to our patrons residences a few times per year.
● We also deliver statewide year round in a zany giraffe box truck.